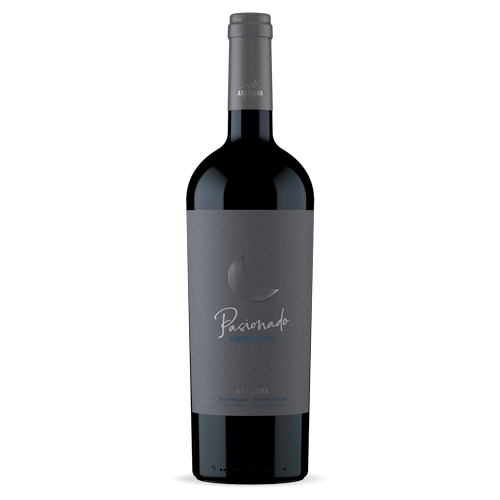 On Sale
Andeluna Pasionado Cuatro Cepas Argentina
If you like Left Bank Bordeaux, you will LOVE this!
About Andeluna
The state-of-the-art winery is equipped with the most advanced technology imported from France and Italy. It has capacity to produce 1,300,00 bottles per year as well as 1,200 barrels and a maximum storage capacity for 720,000 bottles.
Andeluna Pasionado stands comparison with the great wines of the world. Product of exceptional harvests, its grapes are carefully picked from low-yield parcels. Aged in new French oak barrels during 18 months and then it spends 12 more months in bottle before release.
Varietal Composition
Cabernet Sauvignon 20%, Merlot 35%, Malbec 35%, and Cabernet Franc 10%.
Vineyards
The grapes used come from our vineyards in Tupungato, located at 1300 m.a.s.l. (4300 feet). Very low-yield (less than 4,500 kg per ha.) plots with alluvial, sandy and permeable soils were selected.
Chief enologist: Manuel Gonzalez.
Harvest: Grapes are hand-picked at dawn into small boxes when they reach the optimum level of polyphenol ripeness.
Vinification: Hand-selection of berries. Pre-fermentation maceration with dry ice. Racking and post-fermentation maceration for 10 days.
Ageing: Each varietal is individually vinified and aged for 12 months in new French oak barrels. Wines are blended, to rest for 6 more months in new French oak barrels, nurturing and smoothing the particular characteristics of each varietal.
Tasting Notes
The intense red colour, violet and ruby shades characterise this wine. Aromas of ripe red fruits typical of Malbec, combined with the spiciness of Cabernet Sauvignon and Merlot, plus delicate hints of anise granted by the Cabernet Franc. The aromatic richness of this Blend is made complete with the touch of vanilla and chocolate acquired from new French oak barrels, where it rested for 18 months. This is a full bodied, structured wine with well-rounded tannins, qualities which result in a long-lingering finish. Decant and serve at 16°C. Suitable for long-term storage.
Awards
Decanter 96 points! Highest rated Argentinian Wine!
*Vintages may vary from image.