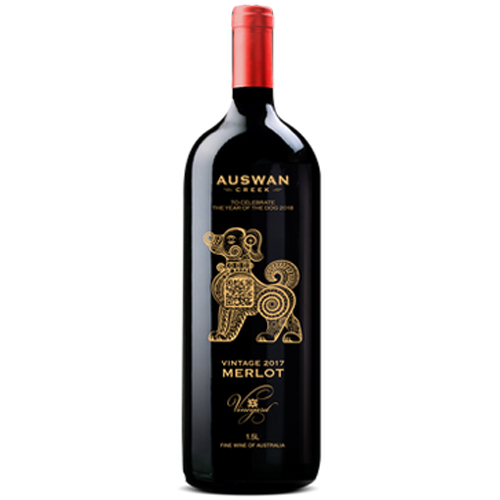 On Sale
LIMITED EDITION - Australian Swan Creek 'The Big Golden Dog' Merlot, 1500ml (1.5L)
Vintage:

2017

Area / Region:

Wine of Australia – SA (Coonawarra & Lower Murray)

Grape variety:

Merlot

Quality:

Premium - Limited Edition: 2,800 bottles (Aust)

Style:

balance of fruit, tannin and acidity for drinking young

Colour:

The colour is Australian deep ruby red with a vibrant rim

showing full flavoured ripe ness

Aroma:

Aromas fresh mulberry into blueberry fruits and

flowers violets.

Palate:

The palate soft on the tip of tongue and is very well

centred soft textures that gets more richness in the

middle palate the middle of the tongue fruits with same

berry flavours plus red plum as the aroma with

blueberry and mulberry. It has a medium full body.

Length:

The tannins are round and ripe and close the finish to

the flavours and frame the fruit so the berry flavours

get a clean food friendly finish.

Winemaker:

Ben Riggs

Awards & Accolades:

New product, - results not back yet

Storage:

Drink Now, 5-10 years

Temperature:

Room Temperature

Food Matching:

Best served with pasta, BBQ or pizza

Alcohol:

14.0 % vol

Bottling Date:

25th Oct 2017
The Year of the Dog
Auswan Creek produces an exclusive limited edition wine celebrating the Lunar New Year which illustrates the Chinese Animal Zodiac (Sheng Xiao). Sheng Xiao literally translates as "born resembling" and The Year of the Dog brings dependability and intelligence and calmness.
A special parcel of wine was selected by Master Winemaker, Ben Riggs as a jewel for the 2017 bottling, demonstrating a true wealth of flavour and richness. What better way to celebrate the 2018 Lunar New Year and all the good fortune and wealth it brings, than with a glass of our world famous Australian wine.
Packaging
In the spirit of gifting 'The Year of the Series' has been packaged to the highest standard incorporating; a gift pouch and gift box. The screen printed label is virtually impossible to counterfeit ensuring wine and brand integrity.

The screen printing process applies the selected ink, 360 degrees around the bottle before heating to 600oC. This ensures the highest level of adhesion as the ink is bonded onto the glass at a molecular level.
Chief Winemaker: Ben Riggs
After spending a decade and a half as winemaker for Wirra Wirra, Ben decided it was time for his own star to shine. Ben started making wines under his own name "Mr Riggs" and the accolades soon followed, winning more than 20 Australian wine industry trophies.
Ben has been crowned Bushing King, the highest honour in McLaren Vale three times for making the best wine at this Regional Wine Show. Now Ben enjoys the limelight travelling the world and expressing his passion for McLaren Vale Shiraz and creating a new legend for Australia Swan Vintage.