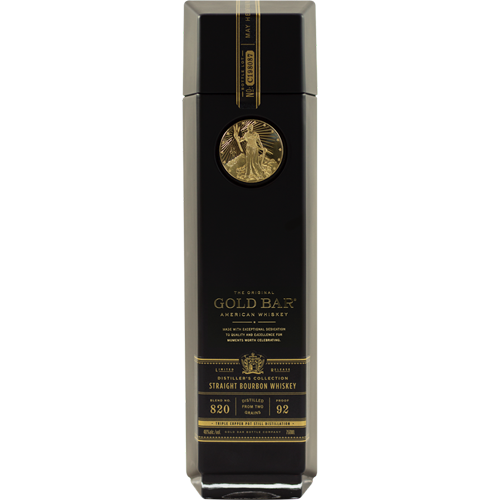 On Sale
Gold Bar Cask Collection 820 Release Bourbon
Mash bill: 80% corn, 20% rye

Appearance: Deep mahogany copper
Nose: Caramelized molasses, charred oak and vanilla.
Palate: Bold rye spice followed by sweet raw corn with rich chocolate and hints of toasted cinnamon. Creamy mouth-feel.
Finish: Soft, buttery, and mellow hints of red fruits.

Created from a select blend of premium American whiskies.

750mL - 46% alc/vol
A completely grain-to-glass expression barrel-aged three to six years in New American Oak. The Gold Bar Cask Collection 820 Release has a unique mash bill of Texas corn (80%) and Oklahoma rye (20%) that is triple copper pot distilled.
The nose features maple, toffee and caramel with layers of spicy rye, and vanilla. The palate showcases bold rye followed by toasted cinnamon and rich tobacco before settling into a soft buttery finish with mellow cherry and sweet fruits. Bold flavor and the same award-winning Gold Bar smoothness.
The Gold Bar Bourbon, Cask Collection 820 Release is married and matured by the sea, in the San Francisco Bay on Treasure Island.