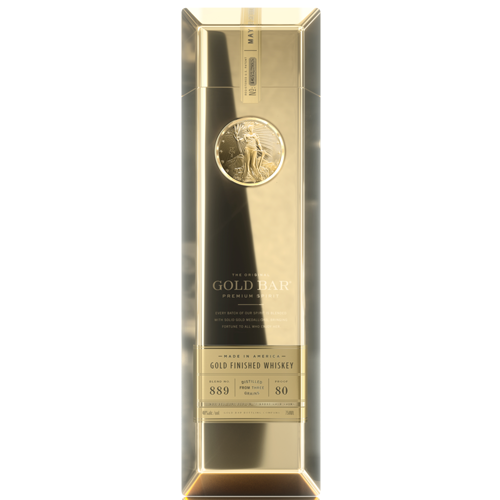 On Sale
Gold Bar Whiskey
| | |
| --- | --- |
| | The perfect gift under $100 |
| | San Francisco, California, USA |
If you like Johnnie Walker Black Label, then you will love this!

Introducing Gold Bar Whiskey. An award winning, San Francisco born Whiskey that reminds us lady luck is on our side! Attributed to the Gold Rush Era of San Francisco and the recent Tech Gold Rush, Gold Bar is a delicious, modern and collectable Whiskey to be enjoyed by any Whiskey lover, Whiskey beginner or simply someone who enjoys collectable things! Even the gold coin on the front is minted! Each bottle is individually numbered so it truly is something magical. 
Mash Bill: 88% Corn, 9% Rye, 3% Barley
Appearance: Clean & Clear, Golden Amber, Honey 
Aroma: Herbaceous with Spicy Notes of Clove and Cardamon. Slightly sweet, with notes of Vanilla, Rye, Honey and Apple
Taste: Starts with spice and apples with fresh citrus balanced off with Honey. Light-bodied and gentle. 
Finish: Smooth with no roughness or bitterness
750mL
40% Alc./Vol