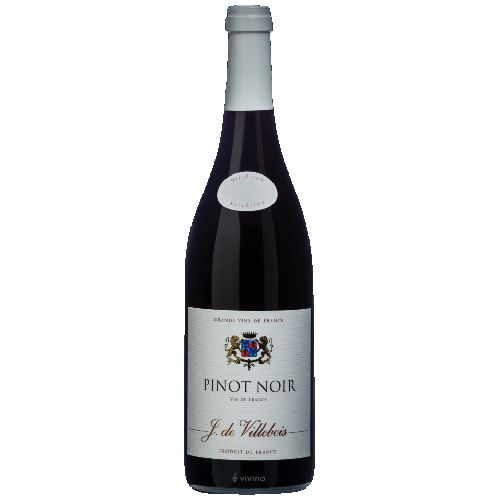 On Sale
J. de Villebois - Pinot Noir
The Vin de France appellation is a great opportunity for J. de VIllebois to work with multiple terroirs. Made from Pinot Noir grapes grown on selected terroirs, you'll discover a new style of Pinot Noir. Thanks to J. de VIllebois' expertise with the Pinot Noir grape in the Sancerre, we've been able to produce a modern, stylish and affordable Pinot Noir!
Tasting Notes: 
Young garnet. The nose opens up to cherry and raspberry aromas. The palate is compellingly silky with a finish that showcases crunchy fruit. A very accessible Pinot noir, perfect for drinking with grilled meats in the company of friends.
Vineyard: 
Made from a selection of the best Pinot Noir terroirs.
Winemaking: 
The grapes are machine-picked before their storage into vats. Cold-soaked maceration is done for a week before the fermentation starts. The alcoholic fermentation last for about 7 days after. The malolactic fermentation takes places in the spring following the harvest.
Ageing: 
To preserve its style and favors our Pinot Noir is aged in stainless steel tanks and a small percentage (about 5%) is aged in barrels. The Pinot Noir is then bottled in Spring after a very light filtration. Some sediments may appear at the bottom of the bottle.
Food Pairing: 
Great to enjoy as an aperitif. Pairs beautifully with read meat - BBQ- and excellent with creamy cheeses (Camembert, Brie de Meaux)
Appellation: Vin de France
Color: Rouge / Red
Variety: 100% Pinot Noir
Style: Dry (<2gr R.S.) and lightly oaked
Alcohol: 13%