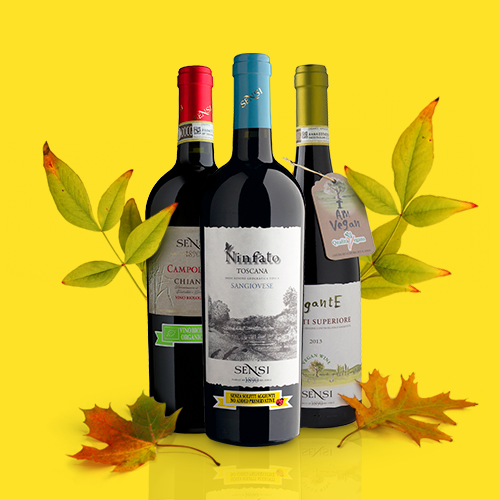 On Sale
DWC Organic/Vegan/Sulfite Free Wine Lovers
Included in this case: 
2 x Sensi "Campoluce" Organic Chianti DOCG 
Made with production principles which respect the surrounding nature, paying utmost attention to limiting the stress on the vine and on the terrain from which it grows "Campoluce" allows the harvest to develop in a totally spontaneous manner, respecting an ethical agriculture aimed at improving our eating habits - which has always been an important goal in Sensi Wines.

All of this is strictly monitored by our technicians and by the competent authorities who guarantee biocertification.

With it's ruby red colour and pleasant fruit aromas, it has a good structure and delicate fresh taste with good organoleptic balance.
2 x Sensi "Ninfato" *No added sulfite* Sangiovese IGT 
"Ninfato" is a full bodied Sangiovese wine with a delicate cherry and red berry aroma and is produced via a completely natural process, from the moment the grapes are harvested until the product is bottled. 
This wine is fermented without the use of added Sulphites, thus limiting the amount present to less than 9mg/L.
2 x Sensi "Vegante" Vegan Chianti Superiore DOCG 
The CHIANTI SUPERIORE VEGANTE is obtained according to the dictations of the vegan philosophy, avoiding the use of animal-derived products in the various stages of cultivation, vinification and wine stabilization.
Moreover, Vegante is a not filtered, and is packaged with materials strictly ecological and with less environmental impact, such as the cap product with derivatives of sugar cane and the label produced with recycled paper, to avoid deforestation, and printed with ecological colours.
The symbol vegan Quality certifies the integrity of the process of ethics under which this wine is produced.
What is Chianti Superiore? 
Chianti traditionally was produced using 4 grapes rather than the 2 that are used today. Those are; Sangiovese, Canaiolo, Malvasia and Trebbiano. The wines must also be aged for nine months, three of which must be in bottle before release