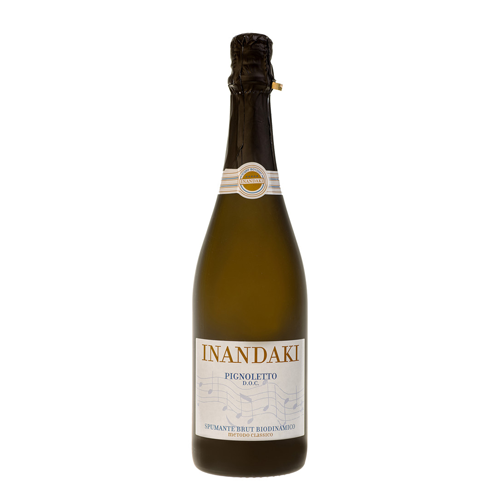 On Sale
Tenuta Mara 'Inandaki' Spumante Brut (Bio Dynamic)
Tenuta Mara 'Inandaki' Spumante Brut is fresh, elegant, lively and delicate, produced with an aging on the lees in bottle for 9 months and characterized by a culinary attitude. It has a pleasant bouquet of fruits, flowers and bread crust and a lively, juicy and easy drinking taste, animated by a savory freshness. Organic and Bio- Dynamic wine, made with old style artisanal methods. 
Colour: Golden yellow with fine bubbles
Aroma: Delicate and pleasant, with scents of white flowers and fruits and light notes of bread crust
Taste: Rich, fresh, dry, balanced, lively, juicy and fruity
Characteristics
Grape Variety:  Pignoletto 100%
Region: Emilia Romagna (Italy) 
Vineyards: In a clayey soil at 200 metres above sea level, in Tizzano Casalecchio di Reno and Zola Predosa. 
Vinification: Soft pressing, spontaneous alcoholic fermentation with indigenous yeasts in steel tanks, adding of concentrated must amd second fermentation in bottle according to the Traditional Method, with à la volée disgorging and without dosage (Zero Sugar)
Aging: At least 9 months on the lees
Serve at 8°-10°C, in a Ballon Flute. This wine is ready to drink right away!
The Ballon Flute is perfect for champagne and method champenoise sparkling wines, because the narrow cup with bottom tip lets the development of perlage without dispersing the bubbles. The body, slightly wider than a regular flute, enhances the intense and complex aromas of the wine, while the narrow opening helps their concentration