It is very rare that I write a blog about a restaurant or bar that I visit as I usually prefer to leave that to the restaurant reviewers. However, I visited a wine bar/bottleshop a couple of weeks ago that has just inspired me to write.
It is also very rare that I frequent the Sutherland Shire of Sydney. By chance, I ended up at Westfield Miranda and met Paul at Beyond The Label when I found myself down the end near Woolworths. Westfield Miranda has gone through a remarkable transformation since the last time I was there and I have to say, I was pleasantly surprised by the contemporary colours and "farmers market" feel of this new section. It felt rustic, fresh and homely.
Beyond The Label's (BTL) clean and classic red sign definitely stood out among the other stores in the section. The decor is inviting and modern and I was drawn in by the rows of Winestations, an invention I saw in New Zealand years ago and wondered why Australia hadn't caught onto this invention yet.
What is a Winestation?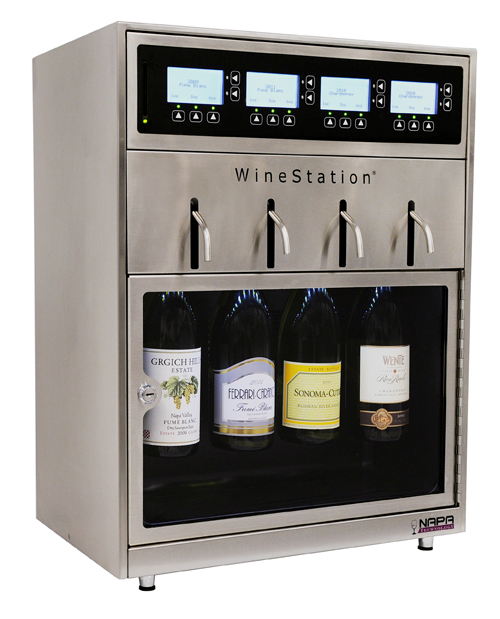 It is a patented technology that enables you to experience a number of different wines for a small fee. It has an LCD screen that helps with your wine exploration and it makes the wine tasting experience really un-intimidating. All you need to do is register as a member of BTL, receive your Winestation Card, Load it up and away you go! It is the best "try before you buy" concept on the market. You can choose between a taste (25ml), half a glass or a full glass! Once you know what you like, you can buy a bottle for the dinner table! I also found out that Paul is in the process of creating an online portal where people can log in and see what wines they have tasted. How much easier will that be to remember the different wines you have tried?
The best part? Tastes start from only $1 and there are glasses available from $5! $5!! Yes, you read that correctly. So after a hard days work, head down there with a colleague and wind down with an affordable glass of wine (and did I mention they do antipasto platters? – oh yes they do!)
I was also really impressed with the wines on tasting. You won't find the same old "Dan's" or "Liquorland" products here. They have unique Australian and International labels on offer as well as interesting varietals. I was happy to see Australia Chenin Blancs, Malbecs & Nebbiolos as well as your usual French culprits…I just wanted to load up a card and start drinking…but it was only 10am at this point…so I may have looked a bit sus.
One of my newfound favourite brands, Ochota Barrels, a one man,Adelaide Hills vineyard who specialise tiny production of incredible, unique wines, was on offer as well as Ant Moore who produce a pleasing Marlborough Sauvy B, with plans to expand his range on offer. I was also extremely surprised to see Henschke's Mount Edelstone 2012 (hailed their best yet!) available for only $14.75 for 25mL. Considering the bottle would cost you between $140-$180, that is a pretty decent price for a taste!
Beyond the Label is obviously passionate about educating their consumers on different wines which I'm all about. On Tuesday/Wednesday nights they hold wine maker tastings for a very small fee, they have a regular quiz night called "Call my Bluff" which sees you tasting a range of interesting and peculiar wines and you need to guess what the variety is or what region they hail. Obviously, whoever gets the most correct will win a prize. I can't wait to go to one myself!!
So Miranda/Shire people, what are you waiting for? Head down to Beyond the Label and check it out!! If you already have, I'd love to hear about your experience. Also, head on over and Like them on Facebook!